Le Jardin du Pavillon, a traditional restaurant: the perfect balance between nature and modernity.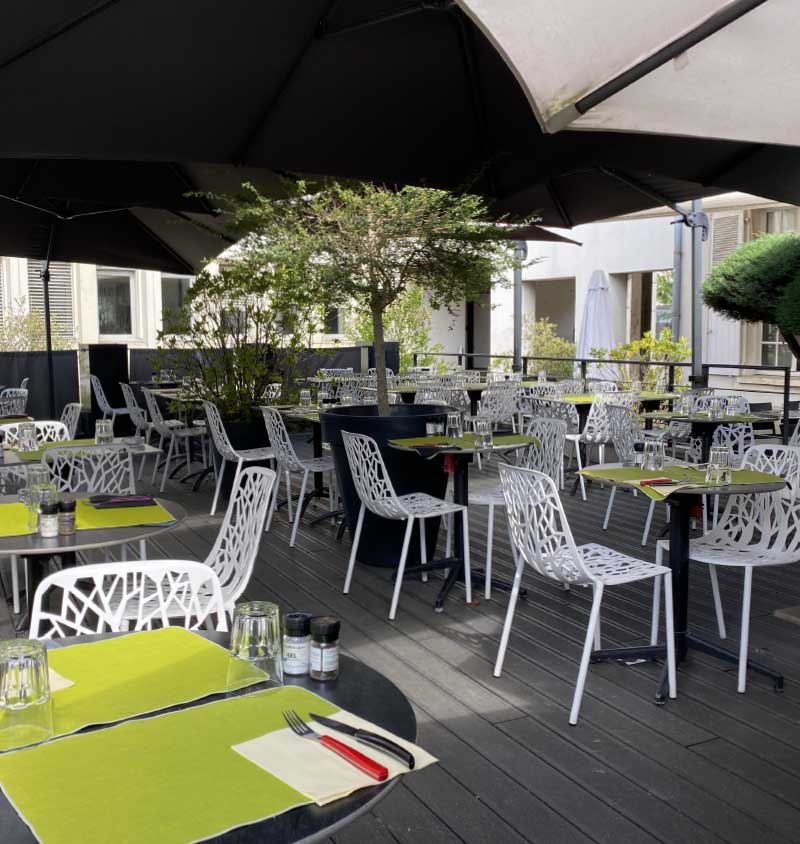 The patio : a verdant and historical view
Le Jardin Du Pavillon is an island of greenery between the Jacques Boucher garden and the Colas-des-Francs pavilion from which it takes its name and the Jacques Boucher park .
You could enjoy the peace of the garden by taking a break in the heart of the Orléans' history.
Adjacent to the Jeanne d'Arc house, you could lunch in front of her garden and maybe catch sight of her fantom at the end of the evenings.
You could also appreciate the richness of our terrace to the Colas-des-Francs Pavilion side, rare edifice of 1552 which avoid the bombing of 1940.
Formerly responsible for records and treasures of Colas les Francs, it's in perfect harmony with our terrace atmosphere.
Whether you're passionate about history or a lover of a beautiful terrace, it's here that you will find what you are looking for.!
A delicious cuisine and pleasant atmosphere
Modern side of Le jardin du pavillon
Ground floor
Le Jardin Du Pavillon offers two classic and modern dining rooms to live each moment to the full.
All the arrangements and decorations of the room are thought to create the most friendly and unforgettable moment for your meal in our restaurant.
You could find a cozy and relaxing space to enjoy your meals on the first floor.
Upstairs
Concerning the room upstairs, it will offer you a magical atmosphere, full of history and unavoidable with the view of the Colas–des-Francs Pavillon and the Notre Dame des Miracles Catedral.
Dare to discover new sensations through all your senses with our gastronomy and Orléans's culture
The art of hosting
Le Jardin Du Pavillon is looking forward to help you to organize your events, professional or private, no matter their nature ( cocktail, breakfast, diner, lunch )
From anniversaries, to religious ceremonies, our staff will propose you quotations for the meal, drinks and any other requests.
Chef can prepare a cake for the event if necessary.